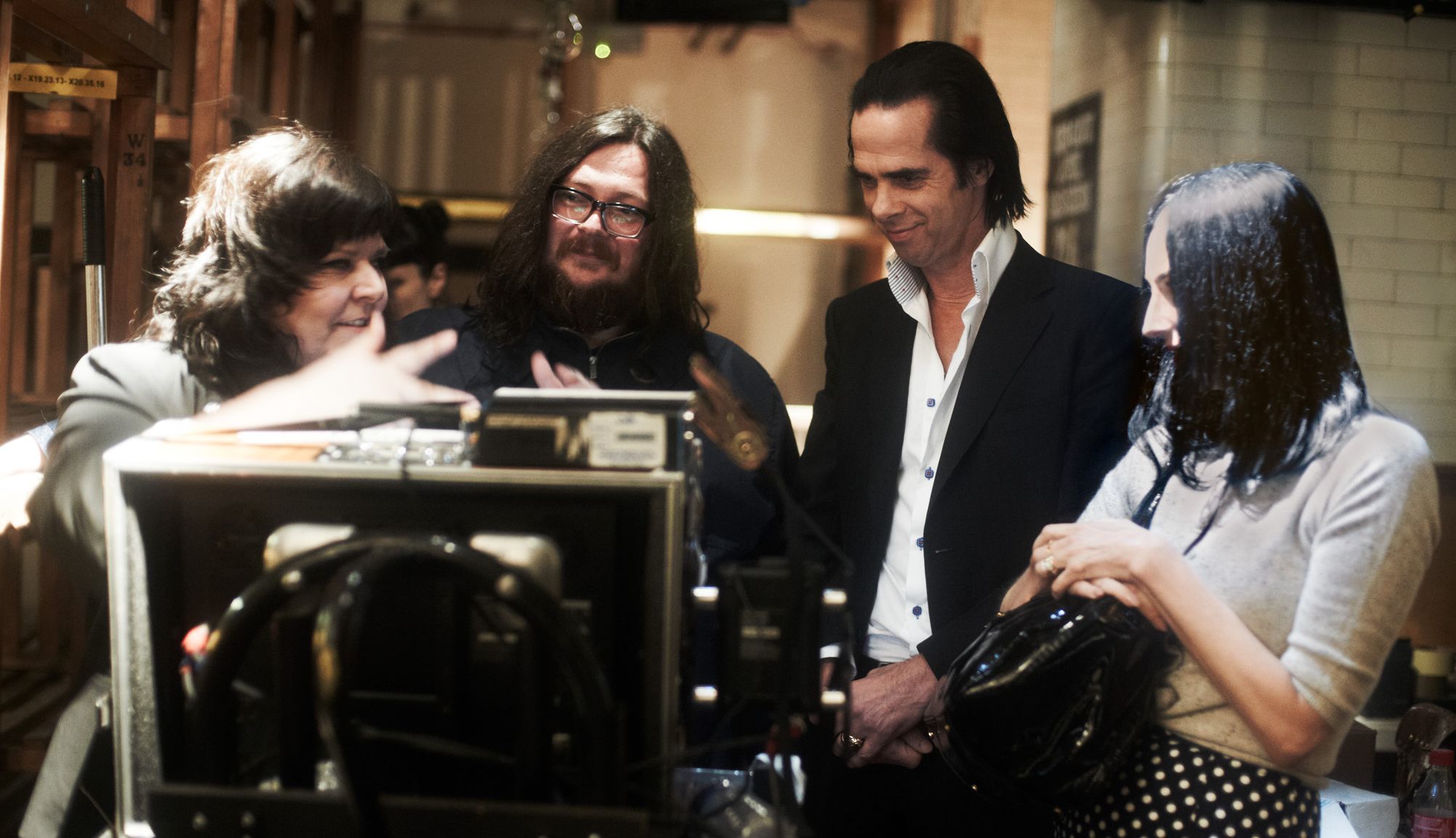 20,000 Days on Earth

PodestriansFilmcast There is a scene in 20,000 Days on Earth where Nick Cave is perfectly photographed sitting behind a desk, typing away on a typewriter as he is surrounded by piles and piles of books. It's the process that he had earlier defined as cannibalising his life. Fast forward a few scenes and Cave is seen behind a piano, animatedly singing Higgs Boson Blues, from the sedate nature of his songwriting to the almost possessed visual of his performing. These juxtapositions stack up in 20,000 Days on Earth, whether it be having lunch in Warren Ellis' bungalow to having a woman in the front row of his concert feeling his heartbeat or scenes where Cave works through things with his psychiatrist to scenes where he works through things with Ray Winstone sitting in the passenger seat of his car. The film is about Nick Cave the man; the film is about Nick Cave the artist; the film is about neither.
20,000 Days on Earth seems like a weird mishmash of ideas that come together in a positive way – perhaps a visual representation of Cave's songwriting. At times the film is coherent – he wakes up, he receives a call from his P.A. with his tasks for the day and then he goes about doing them. But slipped in every now and again are an array of vignettes that season the film and somehow make the coherent parts more… coherent – the scene of Cave watching the TV with his children makes sense, but seems out of place.
It also makes sense that a film called 20,000 Days on Earth would be steeped in so much nostalgia. The film opens with images of Cave from the 1st day onwards until the alarm clock goes on the 20,000th day. From then on, there seems to be a retrospective lens over most scenes. In Ellis' bungalow we hear stories of Nina Simone (part of a story Cave had already presented) and Jerry Lee Lewis. There are frequent ghost-like visitations from people from Cave's life, the Ray Winstone one provides us with a nice look at their views on ageing and performing. The most interesting element of looking in to the past is when Cave visits the people working on archiving his historical artifacts. Here we see pictures from his past projected on to a wall, his well-documented life continuing to be documented. He talks of a time where he lived in Berlin and he almost seems to miss it.
The film is also very much about artistry. We are given an insight into his writing process and also his recording. He talks of the creative monster that he constantly has to wrestle with and images of Bob Dylan come to mind when we see him working on his songwriting at a typewriter. However, the film is about so much more than a musician at work. It's a portrait of an artist, but at the same time a portrait of a human being. I am a fan of Nick Cave and I enjoyed this film, but I don't think those things have to come together.
Find more of our content at www.podestrians.net.
We produce a weekly filmcast. Subscribe on iTunes at:
https://itunes.apple.com/gb/podcast/podestrians-podcast/id920231768?mt=2