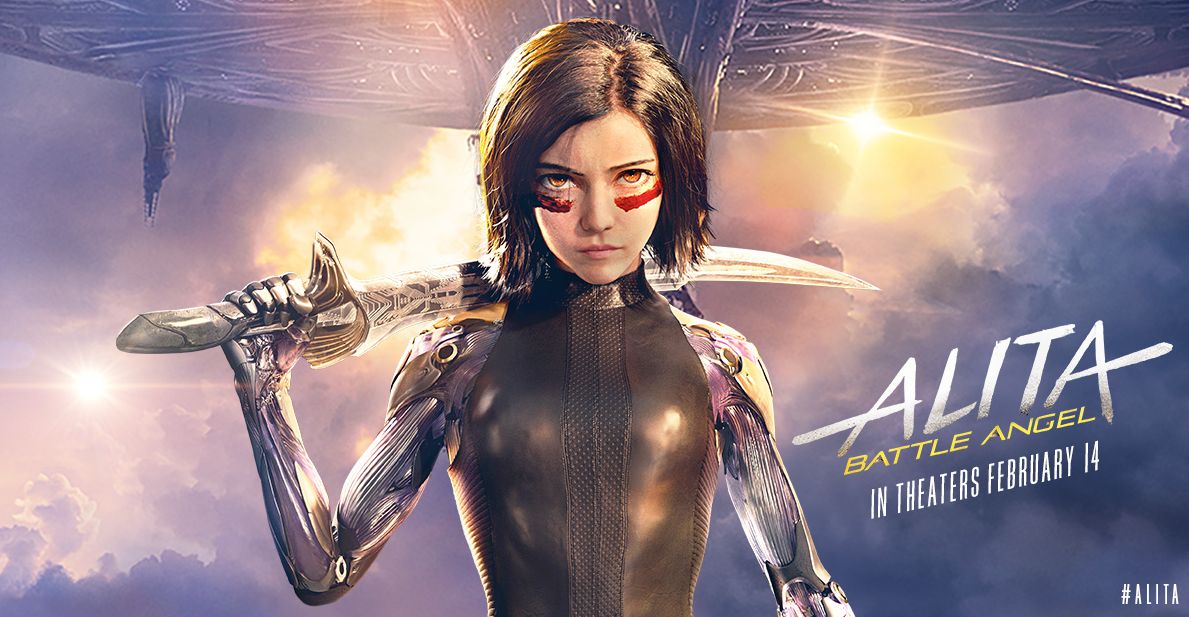 'ALITA: BATTLE ANGEL' (2019) Movie Review

filmgob Several centuries in the future, the abandoned Alita is found in the scrapyard of Iron City by Ido, a compassionate cyber-doctor who takes the unconscious cyborg to his clinic. When Alita awakens, she has no memory of who she is or any recognition of the world she finds herself in. As Alita learns to navigate her new life and the treacherous streets of Iron City, Ido tries to shield her from her mysterious past.
Directed by Robert Rodriguez and produced by James Cameron, Alita: Battle Angel is every bit the visual spectacle you'd expect from this film adaptation of the popular Manga series. The beautiful detail and movement of these CGI rendered cyborgs are the best visual effects I've seen in some time. From the intricate design of Alita's body to the jagged wrecked armour of villainous bounty hunters, the jaw-dropping effects of Iron City and it's inhabitants are the star of the show.
A number of flashback scenes quickly gloss over the back story to Alita and supporting characters. As i've never read the Manga series, i can't be sure if these were missed opportunities to tell a greater story. Whatever the film lacks in plot (which results in a bumpy third act), it makes up in world building and memorable action such as the hilarious bar fight. Even the Motor Ball scenes weren't as messy as i had feared, and actually impressed, with the camera zooming into character's facial expressions throughout the frenetic mayhem and brilliant sound design.
Rosa Salazar delivers a performance as naive and courageous as you'd expect when playing the cyborg Alita. How much of her charm is down to the actress or the cgi animation is a tough riddle to crack. The rest of the cast includes the fatherly Doctor Ido played by Christoph Waltz, while both Jennifer Connelly's Chiren and Mahershala Ali's Vector lack any real depth. Ed Skrein shines as the bounty hunter Zapan. There are also cameos from Eiza Gonzalez and Rodriguez regulars Jeff Fahey and Michelle Rodgriguez. In my opinion, Keean Johnson as Hugo was a weak point among the cast and a poor choice as a love interest for the lead Rosa Salazar.
Alita: Battle Angel, for the most part, is an engaging sci-fi epic that will dazzle you, despite its unsatisfying conclusion.