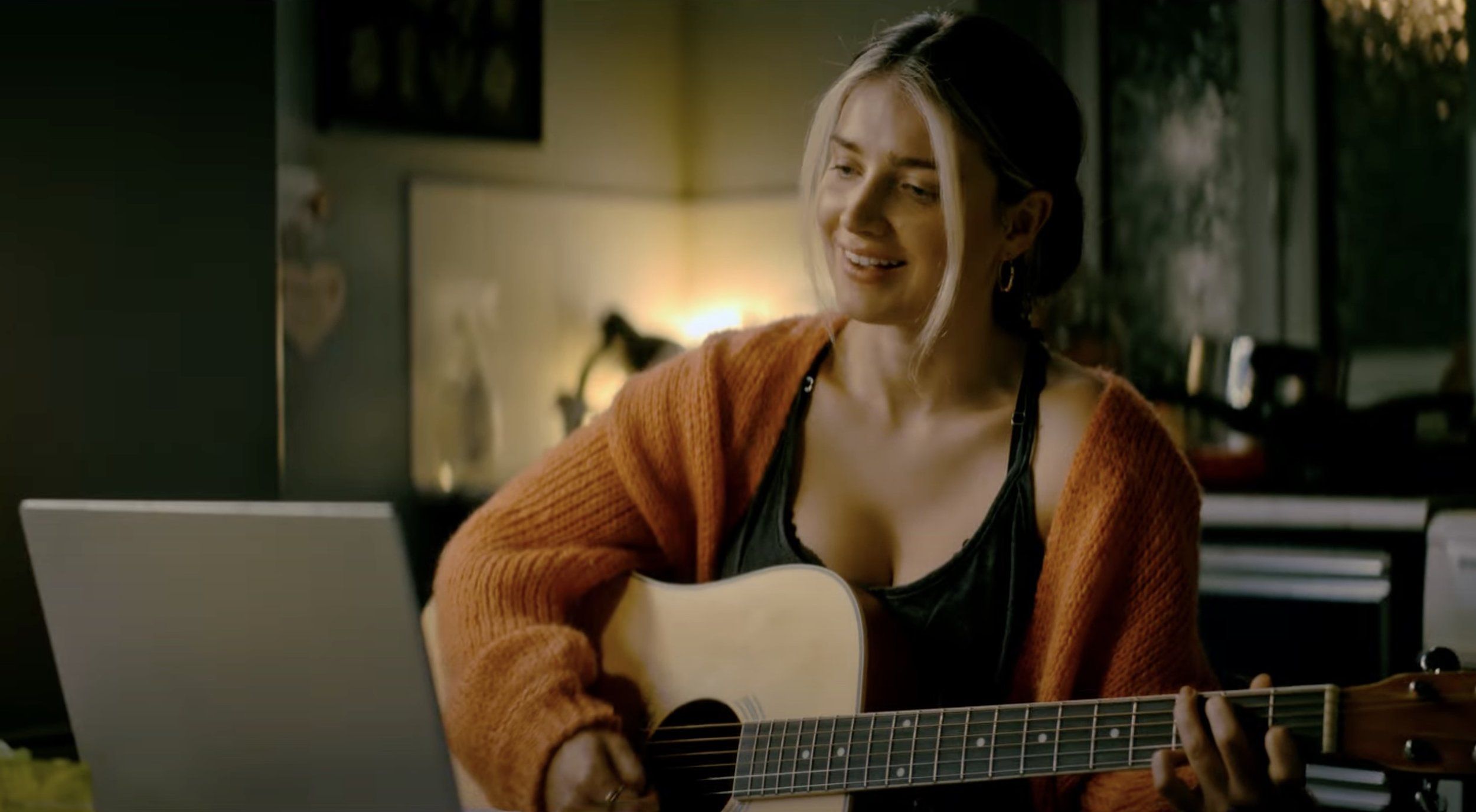 'Flora and Son' Review

LightsCameraJackson Critic Writer/director John Carney knows how to make music shine in his movies. His breakthrough 2007 drama "Once" featured the Oscar-winning song "Falling Slowly". Tunes performed by Keira Knightley and Adam Levine rocked in "Begin Again". And "Sing Street" is one of my 20 favorite films of the past 10 years.
So my expectations were high going into Carney's latest music-centric dramedy, "Flora and Son". He had a lot to live-up to in both the story and song departments. Unfortunately, the film is a letdown in both. And I'd be even more blue if not for one fantastic performance.
Eve Hewson stars as Flora. She's a wild, free-spirit party girl — with a teenage son. Max is played by Oren Kinlan. They live in Dublin, along with Max's dad (a struggling singer, played by Jack Reynor). The couple is separated, sharing in the raising of 14-year-old Max. And they aren't doing a great job, as Max is constantly in trouble with the law. He's been caught stealing numerous times and is on the verge of a juvenile detention sentence.
Flora finds a guitar in a dumpster (an element Carney took from his own life) and gives it to Max for his birthday. But he's more interested in creating beats on his laptop and writing rap lyrics. So Flora decides to learn how to play guitar herself, signing-up for weekly instructions from online teacher Jeff, who lives in Los Angeles.
Joseph Gordon-Levitt is pitch-perfect in the role. Jeff's unorthodox teaching methods include sharing observations on music and life. Gordon-Levitt brings an authentic feel to the character, with his deliveries and facial expressions conveying so much truth. Jeff has pride in his knowledge of the music industry and his talents as a singer-songwriter, but there's an unmistakable layer of sadness and disappointment just below the surface.
The long-distance relationship between Flora and Jeff is the strength of "Flora and Son", thanks to Gordon-Levitt and some poetic visuals from Carney involving the duo. It's unique dynamic that should have been explored further.
Instead, this storyline takes a backseat to the more familiar "dysfunctional family drama". The overwhelmed/overwhelming mother constantly fighting with her mischievous, aspiring rapper son, and then making music together, with dad off to the side but maybe re-entering the picture, is just not compelling enough.
As a lead character, Flora is a lot to handle, and Carney clearly thinks that she's funnier, more layered and dazzling than she really is. He gives Hewson too much freedom (a rarity), which makes for an uneven performance. A number of calculated comedic and dramatic moments simply miss the mark, including scenes on porches, at a playground and in a courtroom. And the last act is pretty in your face and heavy-handed.
As for the music itself — it's is fine, but not special. The love ballad "Meet Me in the Middle" is the highlight, but none of the songs reach the level of those in Carney's previous films. (Frankly, a video of Joni Mitchell performing her iconic "Both Sides Now" is the strongest musical moment in the movie.)
"Flora and Son" does not end on high note. The final scene is basic and emotionally flat. Compared to the knockout "Lost Stars" finale of "Begin Again" and the "Go Now" wallop from the closing boat sequence in "Sing Street", it's not on the same planet.