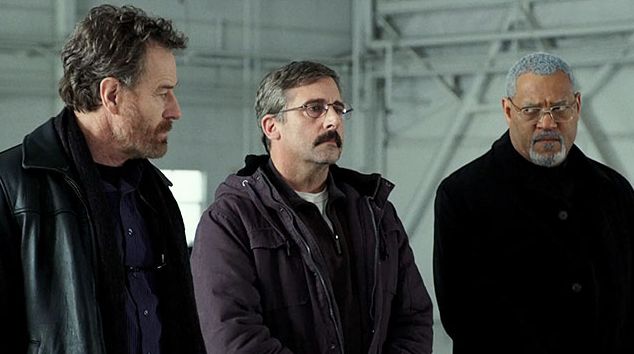 'Last Flag Flying' Review

LightsCameraJackson Critic "Last Flag Flying" is co-written and directed by Richard Linklater - the man behind "Boyhood", "Bernie" and the "Before" trilogy with Ethan Hawke and Julie Delpy. This time around, he takes a different approach to his usual quirky, offbeat filmmaking style. "Last Flag Flying" is much more of an actors movie than a profound directorial achievement. It's the genre tightrope Linklater walks with the material that's the most impressive.
This is based on the 2005 novel by Darryl Ponicsan (who co-wrote the script with Linklater), which is a sequel to his 1970 novel The Last Detail - which was made into the Academy Award-nominated film of the same name in 1973. But to be clear: "Last Flag Flying" is not a sequel to "The Last Detail".
The story plays out over just a few days of Dec. 2003. Steve Carell plays Larry "Doc" Shepherd. He served in the Navy in the Vietnam War and became pals with two Marines - Sal (Bryan Cranston) and Richard (Laurence Fishburne).
Larry hasn't seen either one of them in decades. He tracks down Sal at the neighborhood bar he owns and runs in Norfolk, Virginia bar. The two then locate Richard, who is now a church pastor. This reunion brings-up some old, troubling memories for the two Marines. We get bits and pieces of a wartime incident involving the trio and a fourth soldier. This mystery is present, bubbling under the surface, throughout the film.
Larry has a special request for his old friends, which involves his son, also a Marine, who has just been killed while serving in Iraq. The three set-out on a journey, looking to do the right thing, though, at times, they're not sure what the right thing is.
Now, all of this sounds pretty grim. However, "Last Flag Flying" is as much a legitimate, at times laugh-out-loud, comedy as it is a serious drama. Most of the humor comes from Cranston (who assumes the Jack Nicholson character from "The Last Detail"). Sal is a dynamite role that few actors could pull-off. Cranston is being put up for Supporting Actor awards consideration, but make no mistake - this is his movie.
He's in practically every scene and dominates them all. His character, while a smart-ass loudmouth (Cranston's timing is impeccable), also has the most emotional depth. If you're been a fan since the "Breaking Bad" or even back to "Malcolm in the Middle", you're going to thoroughly appreciate this tour-de-force performance.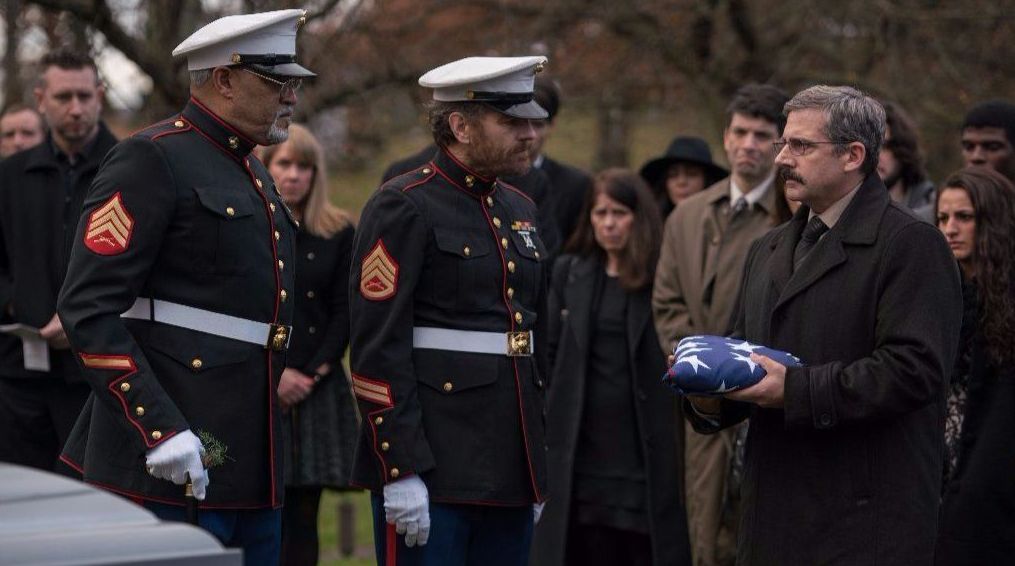 Fishburne's Richard provides the film's backbone and support system. And Carell pulls-off the mild-mannered, quiet, sensitive Larry, attempting to deal with the sudden death of his son and the consequences that follow. The three stars feel very natural and comfortable together - like three guys you would want to hang-out with - for a day or two. The cast also features a veteran actress in a rare five-minute appearance. At the screening I attended, her appearance generated a major buzz in the theater.
"Last Flag Flying" is dialogue-heavy. It occasionally goes around in the same circles, pounding home the same points. It also gets a little extravagant at times, particularly with the humor, but thankfully reigns itself in before getting out of hand.
There's nothing stylistically special going on here. Instead, Linklater simply relies on story and character, putting all his faith in Carell, Cranston and Fishburne. And that strategy pays-off. The result is a movie that has a lot to say about the U.S. military (all of which is still pertinent today), as well as life, loss, guilt and the bonds of friendship. And it provides more laughs than most of the comedies released this year.