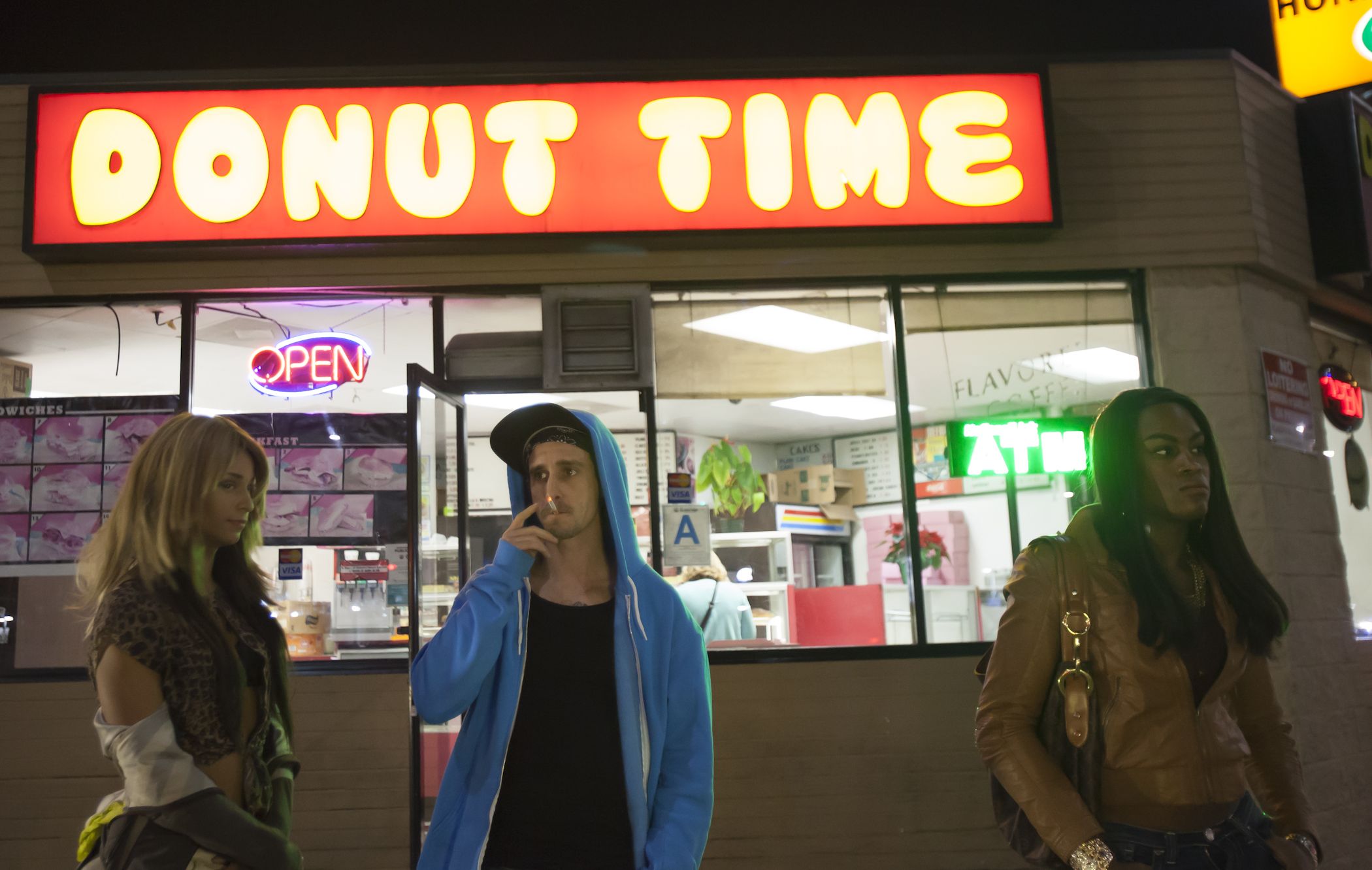 'Tangerine' Bursts Off The Screen With Energy and Style
JamesArthurArmstrong Director Sean Baker's prior films brought rich texture and intimate detail to worlds seldom seen on film. Tangerine follows suit, bursting off the screen with energy and style.
Christmas eve in tinseltown
Exhibiting fierce chemistry with his actors to fashion a distinctive film filled with humour and heart, Baker's talent is on full display. A decidedly modern Christmas tale told on the real streets of Los Angeles, Tangerine defies expectation.
It's Christmas Eve in Tinseltown and Sin-Dee is happy to have emerged from her 28-day stint in jail. Nonetheless, she quickly flips her lid upon hearing that her pimp boyfriend hasn't been faithful during her month locked up, as her working girl and best friend, Alexandra, tells her the story of events. It's from then on Sin-Dee embarks on a mission to get to the bottom of the vicious rumour that's driving her mad. The odyssey leads them through various subcultures of L.A., including an encounter with an Armenian family dealing with their own repercussions of infidelity.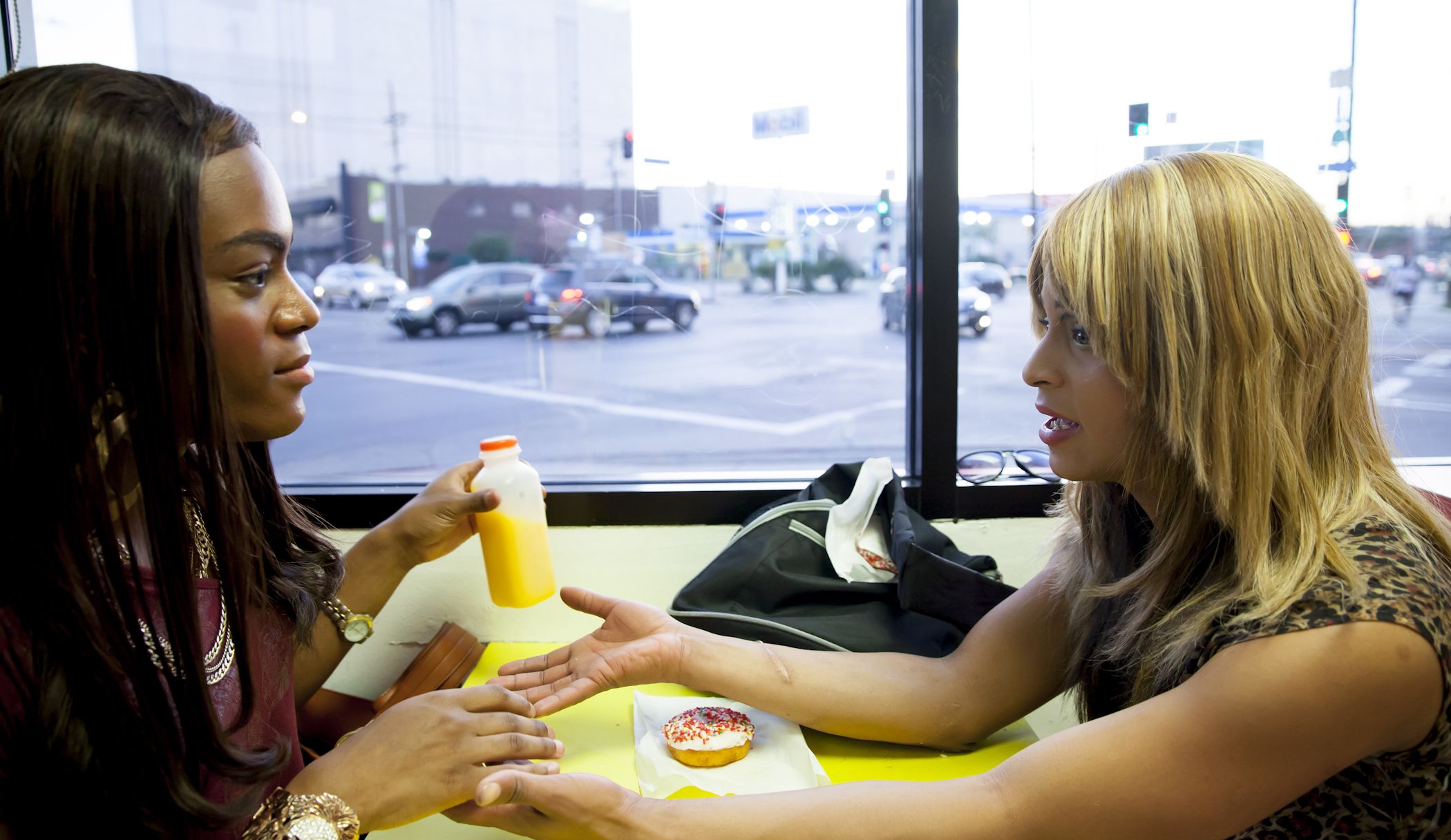 A Hopeful vision
On paper, Tangerine comes across as a movie most audiences would likely steer clear. It's a movie shot entirely on a iPhone 5s that deals with Transgender prostitutes actively working in Los Angeles' sex-trade subculture. I'll go as far as saying thats a movie demographic that doesn't exist. However, Tangerine is a layered tale that intercuts Sin-Dee's quest for the truth with the story of a middle-aged Armenian cab driver called Razmik. At times, Tangerine comes across as a movie seemingly heading nowhere and we are occasionally confused as to why we're following a taxi driver who spends the same afternoon picking up passengers and having his own problems, in particular with two very drunk males who vomit uncontrollably across the backseat of his vehicle.
These two interspersed threads of story eventually intertwine during the midway point and all becomes clear. It's a neat narrative design that chugs along to its own rhythm. In fact, the entire movie doesn't follow any rules. Rather, it breaks them at any given opportunity. Tangerine at the best of times should be a movie that doesn't work. It's characterisations are hard to fathom but somehow works within the confines of this dirty underbelly of society. Baker's use of jarring musical transitions wouldn't work in any conventionally pieced together narrative, but in Tangerine they click and and elevate our attention to the juxtaposition within the hostile environment these bizarre individuals inhabit. With such a vivid tapestry sewn together it's hard to imagine how this story will conclude itself. However, it perfectly comes together during the closing scene at Donut Time — a setting that plays out as a anchor point for this gang of seedy characters. Various insults are thrown, voices are raised and barriers torn down then built back up during a twenty-minute long scene that's a whirlwind of anger and upset.
Baker deserves credit for crafting a film not only on a smartphone, but a film that steers away from being viewed as merely an experiment. It would've been so easy for Baker to have made a movie on a iPhone just because today, that feat is possible. Instead, he's made a movie on a phone that has substance, worth and a brutality to its honesty as it examines a subculture most of us are unaware or ignorant of; Tangerine is a surprisingly hopeful vision of humanity.