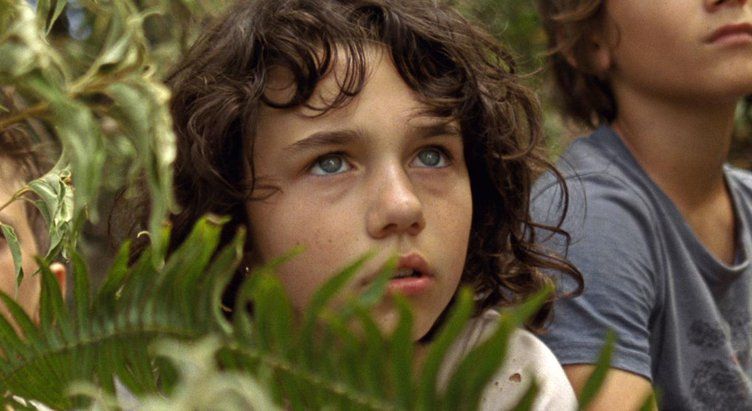 'Wendy' Review
LightsCameraJackson Critic Filmmaker Benh Zeitlin released his indie drama "Beasts of the Southern Wild", through Fox Searchlight, in Summer 2012. It made some noise at the box office and drew acclaim for Zeitlin's vision and the breakthrough performance of young Quvenzhane Wallis.
Six months later, Wallis became the youngest Best Actress nominee in Oscars history. But that wasn't the biggest surprise of nomination day, as Zeitlin beat-out Ben Affleck for a Best Director nomination.
Seven years later we finally have Zeitlin's follow-up feature. And, yes, he spent that entire time crafting "Wendy". This spin on the "Peter Pan" story isn't simply a new adaptation of that classic story from the main female character's perspective. It's a modern, grainy and spiritually-challenging interpretation. Zeitlin takes chances while introducing some heavy themes. And most of them fly high.
Young Devin France plays the title Darling character. She and her twin brothers live with their mom above their family-run diner, which is adjacent to train tracks. The three kids are typical, rambunctious pre-teens. One night, a shadow catches Wendy's eye. Soon she and her brothers are boarding a train for Never Land, led by an adventurous boy named Peter.
Zeitlin shot much of "Wendy" on the Caribbean island of Montserrat, which features a real, erupting volcano. He trained all the first-time actors, including France, who carries the film, and Yashua Mack, who's excellent as Peter. Zeitlin once again finds success with young newcomers in challenging roles.
After an intriguing and effective opening half-hour, "Wendy" begins to drift. There are too many scenes devoted to the lost boys (and girls) running, playing and just wandering around the island — or simply staring at each other or at something in the distance. 
Zeitlin wrote the screenplay with his sister Eliza. The script features several obvious nods to the classic, along with some questionable narrative decisions. Emotional attachment to the characters gets lost during the middle section — buried underneath a rich but slightly overpowering score.
There is some resolution in the final 15 minutes, as Zeitlin's vision become clearer and his themes grow in intensity. "Wendy" is not a modern classic by any means. The attempt to say something unique and profound about growing-up/growing old is not entirely successful. As with most fairy tales, either you buy in or you don't. But it's impossible not to appreciate what the director was trying to do — and what he was able to achieve.