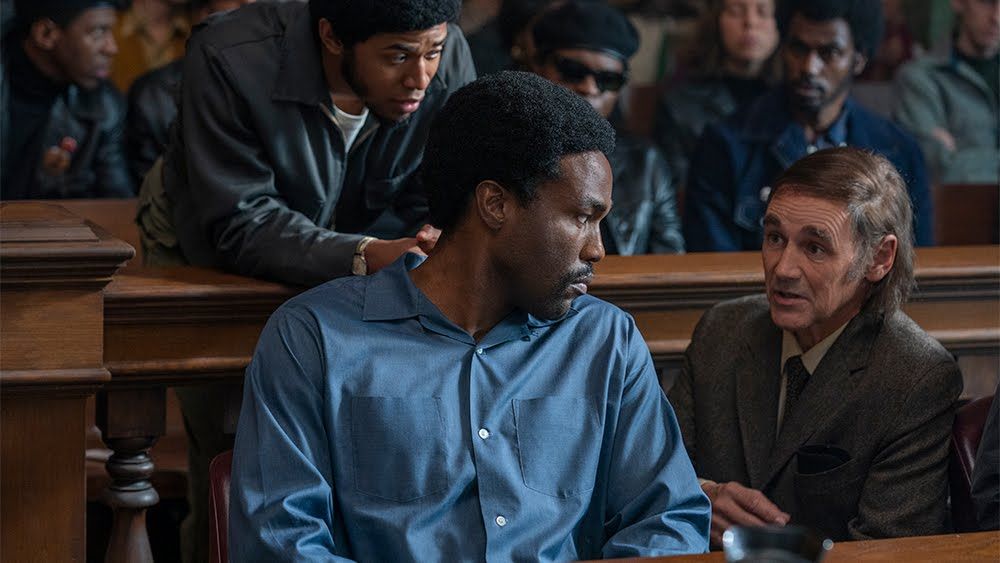 'The Trial of the Chicago 7' review

DelaliBessa Critic Chants of "the whole world is watching" linger after sitting for Aaron Sorkin's timely 'The Trial of the Chicago 7'. Having absorbed news on protest movements all week; from Nigeria to Belarus to Hong Kong, this chant rings even truer and may score my future engagements with fiery citizen power. However, the conviction of protestors worldwide is something Sorkin lacks in his sophomore directing effort.
Unlike an earlier Netflix stand out, 'Da 5 Bloods', which meshed seamlessly with the Black Lives Matter movement, 'Chicago 7' feels less earnest, only acknowledging conversations about the progress or lack thereof America has had since the riots of 1968, (which followed protests against the Vietnam War at the Democratic National Convention) instead of jumping headfirst into the subject matter with scathing barbs and overpowering sense of place. The year 2020 has drummed home the fact the time for half measures is over but Sorkin may be yet to get his memo.
'Chicago 7' is a glossy film, maybe too glossy. That slick Sorkin touch is almost always welcome; from the chillingly prescient 'The Social Network' to the imperious 'A Few Good Men'. I imagine this gloss will attract the buzz of the awards circuit and the performances from this excellent ensemble here thrive on Sorkin and his sensibilities; sensibilities seemingly amplified by mostly courtroom or courtroom adjacent settings.
As indicated by the title, the riots of 1968 culminate in eponymous trial and we meet the key players on as they plan their respective trips to Chicago ahead of the Democratic National Convention to protest the Vietnam War. In an opening montage, spliced with news footage highlighting the stakes of the movement against the war, we meet Eddie Redmayne's clean-cut Tom Hayden and Rennie Davis (Alex Sharp) who want to centre the young American casualties of the war in their protest. In contrast, the free-loving Abbie Hoffman (Sacha Baron Cohen) and Jerry Rubin (Jeremy Strong) favour spectacle and anarchy in their approach to the revolution. We get this early scene of Rubin giving lessons on how to make a Molotov Cocktail.
Then there's David Dellinger (John Carroll Lynch) who is totally against violence and was a conscientious objector during World War II. He never expected to be in the eye in the storm of a riot. Then there's the peculiar yet familiar circumstance that enveloped the eighth defendant in the case, a co-founder of the Black Panther Party Bobby Seale (Yahya Abdul-Mateen II), who was in Chicago only for some four hours to deliver a speech.
After the intro, the film fast-forwards five months after the riots to a meeting between newly elected President Richard Nixon's Attorney General (John Doman) lawyer Richard Schultz (Joseph Gordon-Levitt) and Thomas Foran (J.C. MacKenzie) who have been tasked trying the eight men who have been accused of instigating the riots. The former has minor reservations but is ultimately a company man.
This is clear political manoeuvring, a weaponisation of the justice system by the Nixon administration to set an example for the anti-war movement. Leading the defence of Hoffman, Hayden and the rest of the seven is the perpetually frustrated attorney William Kunstler (Mark Rylance) who tries to plead his case before Judge Julius Hoffman played with remarkable venom by Frank Langella who has played Nixon in the past but seems to be cut from the dangerously hapless and vile cloth of President Donald Trump.
There is thespian talent oozing through the cracks in 'Chicago 7' with Kelvin Harrison Jr showing up as the Black Panther's Fred Hampton whilst what would have been a nice surprise cameo by Michael Keaton as the Attorney General in the previous administration was ruined for me by a Netflix display picture.
Sorkin, also a writer for the stage, is terrific at putting actors in a position to shine with swooping scenes laced with dialogue to die for. Polished speeches and exchanges abound, sometimes to theatric and preposterous effect. Consider the 'our blood' moment during a mock cross-examination between Kunstler and Hayden which still baffles me.
Rubin and Hoffman seem to be having the most fun in Sorkin's playhouse, trolling Judge Hoffman and America with snide quips whilst mirroring the lack of expectation of audiences who know the idea of justice at the end of the trial is a pipe dream. There is a fun retort from Rubin in a presser to a journalist; "you've posed that question in the form of a lie", which is a line I will be stealing for all eternity.
Their gung-ho "Yippie" demeanour is at odds with the plight of Bobby Seale who is a marker for a different layer of injustice in America. Why is there an eighth person in this film defined by the number seven? And I'm not asking for the surface answer. Seale yells it to us time and time again. But at the heart of Seale's visceral anger, so well embodied by Mateen II, is an understated (maybe too understated) part of this film that dithers in effectiveness. But it affords Sorkin the opportunity to deliver a truly haunting scene that is as critical as he gets in attacking the justice system and as good as he gets directing-wise.
But this is just by the way. Seale is soon jettisoned as he leaves the trial and so is the layer of race. What we're left with, and probably what Sorkin is most interested in is the dynamic between Hoffman's chaotic approach to the revolution and Hayden's respectability approach to radicalism. The Yippies are uncompromising towards the fraught structure of governance and constantly remind us that this is a political trial.
But Hayden retains a belief in the system, somewhat like Sorkin, argues in favour of due process and importance of keeping up appearances for election's sake. "If you don't win elections, it doesn't matter what is second," he says in a heated exchange with Hoffman. Hoffman makes the point that their visions of victory differ, which is clear for all to see, but Sorokin, of course, makes this more momentous than it actually is.
Some moment also had me tagging Hayden as insular, which is harsh, but a manifestation of the lack of clarity from Sorkin who is allowed to make multiple points and clumsily string them together with a worn-out string much like the state does with some of the defendants. But like I said earlier, 2020 has reduced the margin for half measures and I really wanted to know where our director's convictions lay. That would have got my emotional buy-in and elevated this film from merely an engaging courtroom drama.
Some elevation could have come with bolder direction. The structure of the screenplay is impeccable, weaving between the present day and events around the riots with seamless cut-ins. Sorkin, however, stops short of hitting us with the full force of the brutality. We get a taste with chilling images of police taking off their badges and name tags right before brutalising protestors and Sorkin flirts with footage of actual state violence from the protests. A taste is, however, not enough for a period defined by chaos and angst and the tone never reflects this. A major failing on Sorkin's part.
The whole world was watching, almost literally as 'Chicago 7' has been the second most-watched film on Netflix since its release. The world won't learn anything novel about Sorkin. He will still be defined by his slick scripts and that's fine, just not enough for a film staged around a citizen movement led by very human icons being attacked by a corrupt state.