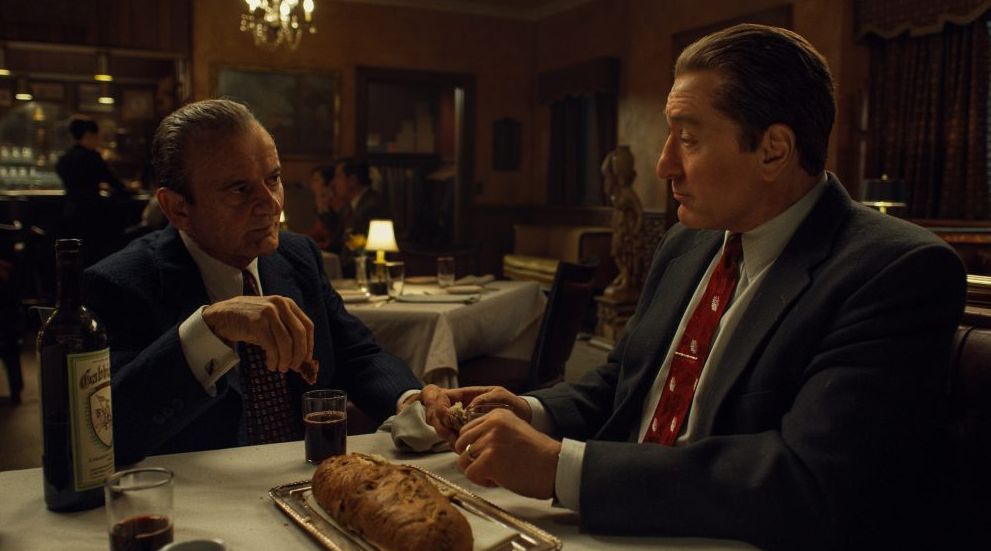 'The Irishman' review

DelaliBessa Critic The profound final shot of Martin Scorsese's gangster epic 'The Irishman' evokes key elements in the codas to the first two Godfather films. Traces of fear and regret, loneliness and longing, loss and retribution are conjured in the haunting ending simultaneously piercing bone and marrow with laser precision only leave a seed that explodes into emotional disquiet.
'The Irishman' times struts with the swagger of Scorsese's other mob classic 'Goodfellas' but slowly reveals itself to be a film more in line with the spiritually attuned 'Silence'; concerned with ideas of loyalty and betrayal. The inspired final shot is not too dissimilar in spirit to Andrew Garfield's apostate priest clutching a small cross in death. It means nothing but, yet still, is everything.
Not to retire the 77-year-old Scorsese before his time, 'The Irishman' is the kind of summation of a subset of this master director's long career that leaves you with a feeling of completion. The only glaring blemish here is that the film called 'The Irishman', not 'I Heard You Paint Houses' which is a damn great title.
Central to this achievement, which is adapted by writer Steve Zaillian from Charles Brandt's book 'I Heard You Paint Houses', is one part of the holy trinity of Crime Cinema, Robert De Niro, who plays truck driver turned Mafia hitman Frank Sheeran with restrained aplomb. Seemingly alone in a retirement home, his memories are the launching pad for the screenplays interesting structure that starts with a pivotal drive to Detroit for a wedding and then goes back further to year zero of Sheeran's ties to the mafia.
All roads seem to lead to the purported demise of truck drivers union leader Jimmy Hoffa (Al Pacino) as the story tries to mesh crime and politics in a way not too dissimilar to 'The Godfather II'. As an aged Sheeran walks us through time with his disputed but enthralling narration, there's something fitting about the iffy de-aging tech that is supposed to make 75-year-old De Niro look how old again? Memories aren't perfect and sometimes strained, would be my defense, much like De Niro's labored gait on the streets of Philly when he is meant to be a spry young man.
Questionable physicality aside, we never doubt Sheeran's propensity for violence; from his time during World War II to his first of many hits for the mob under the patronship of Joe Pesci's mafia boss Russell Bufalino.
More pivotal to the essence of the story, however, is the sequence that sees Sheeren beats up a grocer in defense of his daughter Peggy (Lucy Gallina). She doesn't love him more for it. It terrifies her. And from then on her side eyes become more lacerating as the film progresses culminating in that searing "why?" delivered by Anna Paquin as the grown-up Peggy, who cuts a spectral presence, sucking the air out of a room with subtle ticks.
Like the final scene in David Cronenberg's 'A History of Violence', I felt like I was being asked to pass judgment on Sheeran's ways. And for all the kills he makes during his largely fortuitous rise in the Philly mafia, the sin that will haunt him the most is his betrayal of the bond of brotherhood.
We're in a complex spot with Sheeran though as his loyalty to the Mafia is matched only by the strong friendship he develops with Pacino's Hoffa. They share rooms, have heart to hearts and spend time with each other's family (Peggy tellingly has strong affection towards him). It's a special kind of joy to see De Niro and Pacino in moments of warm intimacy onscreen sharing hugs or even just having a bedtime convo in their pajamas like a couple of nine-year-olds would.
There are also so many great moments that enforce Sheeran's brotherhood with the Mafia, like the scene with Sheeren and Russell conversing in Italian and breaking bread and wine; a symbolic first supper. Notably, it's here the story flashes back to Sheeran's time during the war and the borderline war crimes he committed in the name of the flag, setting the tone for a deficit of morality.
The Mafia takes the place of country for Sheeran. It's a new calling ready to tap into our anti-hero's flawed nature and history of violence. So it makes it a worthwhile exercise to consider how Sheeran contextualized all his kills. Perhaps, murdering a rival mobster is almost the same as executing unarmed Axis soldiers in a forest.
History is an essential part of 'The Irishman's' plot and it is more concerned with the politics of that time than it probably needs to be. The time spent dropping historical Easter eggs about Castro's rise in Cuba and the CIA's failed attempts to overthrow him could have been whittled out. These threads are a byproduct of the time spent with Hoffa and his fraught relationship with the John F. Kennedy administration. "He'll never forgive me for giving Nixon money," Hoffa hilariously blurts out as a simple diagnosis of his troubles.
Could the time spent in hearings or showcasing the Forest Gump-esque qualities of the film be spent fleshing out the women characters? I think so. And I'm not referring to Paquin, who is deployed in a very calibrated role for extreme narrative efficiency. There are a few other women in the lives of the men we spend time with. The film starts off with two of them, Russell's wife Carrie, who I only seem to remember as being overly addicted to smokes, and Frank's second wife Mary, who leaves no impression whatsoever. The least said about Frank's first wife the better.
I rewatched 'Goodfellas' right before 'The Irishman' and I'm never ever prepared for the explosion of vitality that hits when the brilliant Lorraine Bracco's perspective takes hold and her voice-over (as mesmerizing as De Niro's here) ushers us through a version of the crime world Scorsese definitely glamorises. And even Pesci's character's mother in 'Goodfellas' has memorable and fun moments of substance carved out for her in the flow of the story and these are beats this script could have aspired to.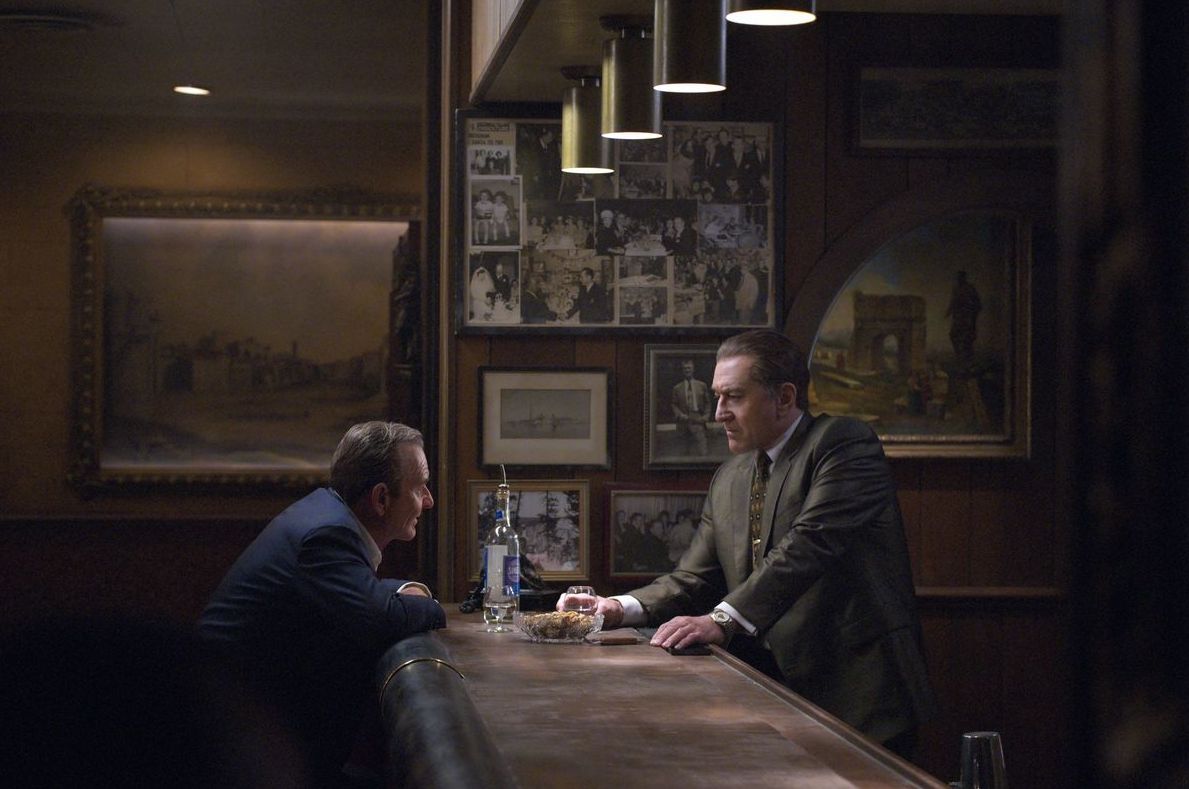 The shades of 'Goodfellas' in 'Irishman' resonate early on when the film is, in more quieter ways, about excess. Consider how Frank gets in with the mob after going from stealing a few pounds of meat he delivers to losing a whole consignment. And then there's the killing, encapsulated by the cache of murder weapons in that underwater dumping spot, which goes on and on until the perceived ultimate sin.
Scorsese keeps up that 'Goodfellas' energy for the first half or so. It's to do with the how engaged his camera us with the Italian Philadelphia crime family; the short pans from gangster to gangster then a quick glide across the room to an important piece of action as if all the characters we had just been staring at were alluring distractions. We meet supporting players like Harvey Keitel as Philadelphia crime boss Angelo Bruno, Bobby Cannavale as "Skinny Razor" DiTullio and Ray Romano as a union lawyer Bill Bufalino, all who are generally used as markers in Frank's journey.
The supporting acts that really get to cook offer little surprises. Pesci is in regal form as Frank's mentor showcasing warmth and muted menace in what is an extremely chill performance. The character that approaches the iconic hot head territory of Pesci past is the electric Stephen Graham as Tony Provenzano, a rising union leader who gets into real beef with Hoffa and is the centerpiece of some of the film's most fun moments.
Bringing the real spice is Pacino, who gives the showiest performance, albeit one with a tonne of substance underneath. Ideas about the passage of time first seem to flow through the volatile Hoffa, who goes from probably the second most powerful man in America to blinding delusional entitlement to something he built. But it's a level of entitlement we understand as he tries to reclaim his spot as the Godfather of the teamsters, just like we understand the extreme reaction it sparks from the mafia.
The process that leads this reaction is something Scorsese is extremely interested in on a macro level. This interest in process translates to the smaller moments like the fantastic build-up to the Crazy Joe hit where Sheeran delivers a crash course in choosing cutlery for a date with murder. The slickness to Scorsese's direction later gives way to brilliantly tense sequences that evoke more dread and melancholy as the stakes for Sheeran start to weigh heavy and penance for his sins beckon.
'The Irishman' slows down in its deeply moving final act. It becomes quieter, lonelier and everything is stripped away when Frank gets to the part of his story where it's just him. What we find is sadness, emptiness and guilt. There is this humbling idea that the most seismic thing you do will barely register as a breeze as the years go by. The current day Sheeran narrates the story to us in a world where the average person has forgotten Hoffa and era that left him with his emotional scars.
With every new Scorsese film, I always wonder what Roger Ebert would think and contribute to the culture by way of insight. In 'The Irishman', I suspect Ebert would have been floored by the outpouring of humanity. The story is darkly funny and the set pieces masterfully crafted but when the music stop, all I think about is elderly Frank Sheeran fighting finality and fighting to stay remembered by those he should have loved. But "he doesn't feel anything at all" and that is the most terrifying part of this eulogy.